Thanks to the development of the connected car, there will come a day when there are no longer any fatalities caused by car accidents. There won't be any accidents at all.
At the recent IBM Pulse 2014 conference, Brian Droessler, vice president of software and connected solutions for the parts and systems maker Continental Automotive, said that, once cars become application platforms as part of the age of the Internet of Things, there will come a day when vehicles can "see over the electronic horizon."
Beyond integrating systems within the vehicle, Continental Automotive is working with IBM to leverage application programming interfaces (APIs) and analytics to allow vehicles not only to access their own telemetry data, but also to process information from external sources. That capability would be able to alert the car about everything from the weather conditions ahead to the flow of traffic miles down the road.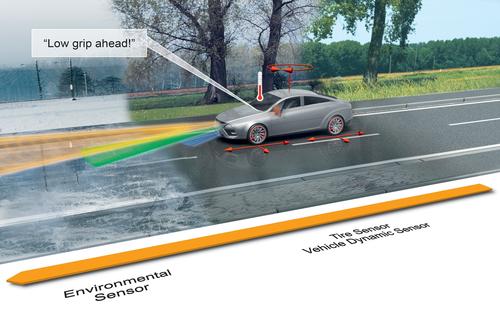 "This is an amazing time to be in the automotive industry," Droessler said at the conference. "The car will join the API economy."
Most of that joining will involve not only analyzing telemetry data, but also downloading applications in much the same way that end users download smartphone applications today. "The cloud will become the app store for your vehicle."
In fact, for an early example of how APIs will help transform the transportation experience, one need not look much further than the recently introduced Apple CarPlay system that will find its way into cars from Ferrari, Mercedes-Benz, Volvo, BMW Group, Ford, General Motors, Honda, Hyundai Motor Company, Jaguar Land Rover, Kia Motors, Mitsubishi Motors, Nissan Motor Company, PSA Peugeot CitroŽn, Subaru, Suzuki, and Toyota Motor Corp.
And, of course, we're starting to see cloud service providers such as PubNub that offer access to the APIs and connectors needed to build those applications, along with API portals such as Vehicle API, a collection of resources that developers can access to build applications for a variety of vehicles.
In addition, developers can visit the Hearst Automotive Network, a portal that specializes in automotive APIs, or the CarQuery API, which provides APIs and a database for gathering vehicle information.
With every automaker trying to turn vehicles into application development platforms, the challenge may not be so much finding APIs as managing them.
Brian Mulloy, vice president of the API management software provider Apigee, told us there is no shortage of APIs for vehicles and all the individual components that make up a vehicle. Auto manufacturers vary widely in terms of how advanced they are in this field. Thanks mainly to its OnStar initiatives, General Motors is fairly far down the road in turning vehicles into application platforms. The highly heralded Tesla cars have a lot of individual APIs but no formal programming construct to invoke them.
And once there is a platform in place, Mulloy said, there is a world of difference between creating a programming model and managing the ecosystem of partners that will emerge eventually around it. "Each automotive manufacturer is at various stages of evolution."
However, automakers may be proceeding at a deliberate pace for good reason. In addition to the need to vet applications that will ultimately define a car brand, security issues are a primary concern. The notion that an API might be hacked to inject malware into the system or, worse yet, actually cause a crash is a scary thought.
Of course, none of this means that vehicles aren't still potentially dangerous, but it does mean that they may not be as unsafe at any speed as they used to be.
Related posts: