The lighting industry is moving from fluorescent to LEDs. Lighting-as-a-service aims to make that transition smooth and add value for both customer and provider. The Internet of Things is helping.
Lighting consumes 461 billion kWh of electricity in a year, which means that increased energy efficiency in lighting would save billions of dollars. LEDs can provide that efficiency, along with a number of other benefits: long life, ecological friendliness, zero UV emission, design flexibility, operational capabilities in extreme temperatures, directional control, instant on/off switching, low-voltage operation, device communication using visible light (LiFi), and the ability to gain the desired color temperature, for starters. No wonder they are becoming increasingly popular.
Energy efficiency is the main force behind the industrywide transition to LEDs. For instance, providing adequate lighting for 200 ft2 would require 3,000 lumens. On average, a fluorescent lamp delivers 55 lumens/watt, so delivering 3,000 lumens would consume roughly 55 watts of electric power. By contrast, LED lamps deliver 113 lumens/watt. They consume roughly 27 watts to light up the same area.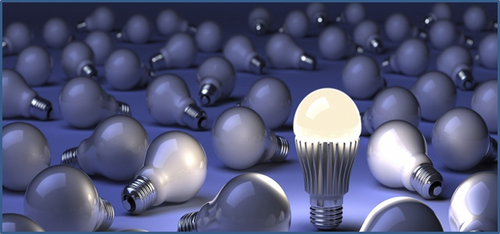 However, initial cost can be an obstacle. Replacing traditional lighting with LEDs will save money over the long run, but the cost of making those replacements can be substantial. As a result, many potential users, such as cities, are delaying that step.
Companies such as Philips (which sponsors this site) have found a way to help cities manage the shift to LED lighting by offering lighting-as-a-service. Philips covers the initial installation costs. The city pays Philips over time and generates savings through efficient LEDs. The energy used by streetlights, public parks, and parking garages can be easily gauged (the lights are metered separately), so energy savings can be calculated with confidences. In January, Philips committed to a contract to install 13,000 light fixtures in Washington, DC, under such a plan.
But offering lighting-as-a-service for something like a commercial building creates challenges. Often in such applications, lighting is metered in combination with the other equipment in the building. The building might have automated lighting plans for floors and motion detection to switch lighting on and off. This situation makes it difficult to measure the amount of powers the lights are actually consuming -- rendering a cost-benefit analysis somewhat speculative. To overcome this challenge, lighting needs to be metered separately, and data needs to be stored historically, so that an accurate measure of power use can be made.
Utilizing the Internet may be the easiest way to achieve these goals.
However, adding metering devices to light fixtures will increase the cost of fixtures. One workaround is to use Power over Ethernet (PoE) networks, where the Ethernet switch provides a centralized environment where metering and monitoring can take place. In a building that already has a PoE network deployed (power and connectivity in a single cable), this would enable other IoT devices to be installed in a building with minimum modifications.
Still, one could argue that the case for LEDs is already pretty strong due to their energy efficiency. The Internet could be bypassed, and a direct switch from fluorescent to LED lighting could be implemented. Deploying lighting with Internet connectivity and control to gain an accurate ROI estimate would create unnecessary complications and costs. After all, buildings can have a lifespan of more than 30 years. If the ROI is met in six years, rather than the estimated four years, it would still be an acceptable investment.
Though a direct switch method would work, it would create a few problems down the road. Take upgrades. LEDs are semiconductors like CPUs. The CPU follows Moore's Law. The LED follows Hiatz Law, which predicts that LEDs will progress to 200 lumens/watt in five years. If a conversion were made without the means for monitoring and recording power usage data, it would be difficult to determine the best time for subsequent upgrades.
Nevertheless, connecting the lighting to the Internet would enable lighting to become a platform for innovation -- delivering value-added services to businesses. The Internet and lighting in this regard would be analogues to the relationship of the smartphone and app stores. Here are some use cases that might serve as the basis for lighting-as-a-service apps.
Increased employee efficiency
Studies have shown that nonvisual retinal receptors in human eyes process color temperatures to regulate our circadian rhythm. A color spectrum of 6,500K signals to our bodies that it's time to wake up, 5,000K fosters concentration, and 3,000K prepares the body for sleep. By controlling workplace lighting, a company can stimulate the desired response from its workers. Sigma Luminous produces light fixtures that take advantage of LED's ability to change color temperature in a manual and programmable environment. But as data and research grows, this will become a big-data situation -- creating the need for Internet access, apps, and automation.
Restaurant flavor enhancer
Light color affects the taste sensation that foods create. In a restaurant environment, light color could be adjusted to increase the flavor of certain foods. Each table could have its separate overhead lighting. As a customer places an order, an automated system could adjust the lighting color for the table to enhance the food type.
The use cases and the kind of services that can be delivered through lighting are numerous and will increase as new use cases are discovered. For all of them, having lighting systems on the Internet is a prerequisite.
I would like you hear your thoughts. Is lighting going to move on to the Internet?