Many applications for the Internet of Things involve simple sensors that report their findings wirelessly to a hub or gateway. The need for batteries, however, creates cost and logistical barriers to many potential use cases. Fortunately, ultra-low-power, batteryless wireless sensor modules appear to be on the threshold of commercial availability.
A wireless sensor module for the IoT comprises several key building blocks. There is the sensor itself, a microcontroller to process the sensor signal and package it for transmission, and the radio transceiver that sends the information to the next stage. Using conventional logic design, these circuits require a power source of at least 1.8 V at many tens of microamperes for even the lowest-power operating modes.
But over the last decade there has been substantial research done in the design of sub-threshold circuits, including logic, memory, and RF. In conventional logic design, transistors switch between near saturation and an off state dominated by leakage currents, with switching occurring at a gate-to-source voltage (VGS) of about a half-volt, the transistor's threshold voltage (VT). In sub-threshold logic, however, the transistor's two operating states both reside in the region that would be the off state in conventional logic, with VGS < VT.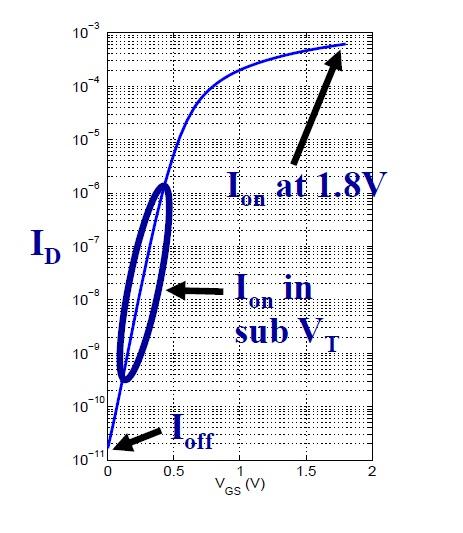 Operating with gate voltages below threshold allows the transistor's supply voltage (VDD) to also be low. Because the power of a logic circuit when active scales with the square of the supply voltage, operating at a low VDD saves considerable power. The drawback to this mode of operation is lower switching speeds, but for many applications this is not a problem.
Sub-threshold operation requires careful control of device physics as well as circuit structures that mitigate the effects of noise and temperature variations, but research has provided solutions to these problems. Now, those solutions are being put into practice. Research papers have already described and demonstrated functioning circuits for microprocessors, memory, and analog devices. Now, at least one company is preparing to bring full SOC sub-threshold designs to market.
PsiKick is a two-year-old startup coming out of research efforts at the Universities of Michigan, Virginia, and Washington that is preparing a wireless sensor module for batteryless operation based on sub-threshold circuitry. The module includes an RF transceiver, a microcontroller with sensor front end, and energy-harvesting blocks, making it a self-powered sensor platform suitable for a wide array of applications. A second-generation version of the design, based on standard CMOS processing, entered tape-out earlier this year, so a demonstrable product is likely by year's end.
The power requirements for this module are astoundingly small, some 100 to 1000 times less than that of comparable sensor platforms currently available. In full operating mode the processor only uses 400 nanowatts while the RF transmitter generates 10 microwatts for an effective range of 10 meters. The module's supply voltage can be anywhere from 0.25 to 1.2 V, making it a good match to the output capabilities of most energy harvesting methods.
The advent of such self-powered wireless sensor platforms will vastly multiply the range of applications for the IoT. Wearable sensors powered by body heat, structural sensors powered by the vibrations within the structures, or sensors anywhere powered by picking up stray RF energy, all become possible with such a platform. And that day is not far off.
— Rich Quinnell,




, Editor in Chief, IoT World